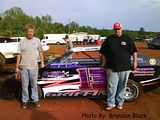 What can one say about Benji Griffin? I had the privilege of meeting this nice man while preparing for the article you are about to read. So far this 2009 season he has had his set backs but nothing that he can not and has not over come. The love for this sport, crew, sponsors, family and fans is what keeps him going each and every week. Back to basics is what I like to call it, "If you love it, stick with it."
Mr. Griffin started out racing remote controlled cars at World Hobbies when he was 14 years old. Then came the Karts which he raced at Foothills Speedway until finally landing in a car racing at several local dirt tracks. This man is true to form and as honest as they come. He has stayed in stock 4 since he began his racing career in an automobile. I asked him if he had planned on moving up and Griffin said " That's all I can afford to race. I would love to move up to Crate or Limited but things are tight right now. If anyone would help me out with sponsorship, I would do it in a minute." He is in the process of building an asphalt Toyota for future events at Anderson that should be an exciting new addition to his racing career.
I asked Griffin about his worst crash to date, "My worst crash was at Riverside in 2005. I came off of turn 2 got turned and then T-boned in the driver door. I was hurt, it ripped the driver door and the fender off the car and I had my foot propped on the cage when something sharp hit my foot and cut 2 of my toes which had to be removed." I also asked if he had thought about giving up the sport after that crash and he said, " I have no fear so no I would never quit racing because I got hurt."
As a local manufacturer worker and a racer, he has little time for anything else but does manage to spend time with his wife Stacy Griffin in their home town of Easley, SC and even plays some PlayStation 3. He is not the only one in his family who has taken to the dirt track. His brother Barry Griffin #15 is also running in the same class. This is a family event for them each and every week at Travelers Rest Speedway. He has ran at other tracks in the area but calls TR home.
At 30 years old, he has come a long way at making a name for himself. With over 40 1st Place finishes in his career, Benji would like to tell all the young drivers out there to, "Try your best and never give up. You will get the hang of it." Persistence and patience has brought Benji Griffin a long way in life. With these qualities, you can bet wins will continue to come his way.
Benji would like to take this space to say Thank You to his sponsors "Griffin Fabrication , Buddy Auto @ Machine , Carolina Home Showcase and MJL Auto @ Body as well as his crew Barry Griffin , Jake Sexton , Jackie Medlin , Buck Galloway and Roy Murphy. A special Thank You to Barry Griffin and Shannon Barnhill because if it wasn't for these 2 people, I wouldn't be racing competitive every week. Thanks to all the fans, family and friends who show up every week to support me in racing. Without you all, this would not be possible."
Benji Griffin was able to take home the first place win May 16th at TR Speedway. This is his first top place win of the 2009 season. Congratulations Benji on the side to side action of the best Stock 4 race of the year so far!
© 2009, Dirt Track Gone Wild. 2008 – 2012 Dirt track Gone Wild All rights reserved.