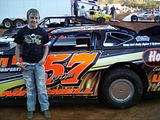 From karts to GM Performance, Zack Mitchell "Kid Quick" has made a name for himself. In 2008, he was the youngest to win in a GM Performance Late Model at the age of 12. Now at the age of 13, his 2009 season looks to be even better than the last.
The first time I saw this young man at Travelers Rest Speedway, I remember thinking "Oh NO, This young kid is going to get creamed out there." That was until the very first lap he made around that track and driving like he had been doing it for 50 years. Each time he went around the turns, I was left to wonder how anyone could be so graceful on a dirt track. I would not be able to keep it between the ditches on a dirt road at 20 mph much less doing 100 but Zack makes it look so easy.
They say "it is in his blood" and I for one believe that. Zack is a 3rd generation driver. His father Todd and grandfather Jerry were also turning heads on the race track with the very same familiar number 57 which Zack decided to keep and run so proudly. From Enoree, South Carolina, this young man is well on his way to making it into Nascar some day. Just take a look at some of this kid's sponsors already like Hot Spot, Clary Hood Inc. and R.L. Jordon Oil Company. You can't say that does not speak for it's self and his ability to handle that car right along with the best veteran drivers on the dirt track.
At 5 years old, he started out in karts and for several years won numerous National and Local Championships. Once he got into a Young Guns car, the same happened. He won numerous Local and National Championships. In 2008 he stepped into a GM Performance Late Model and won 4 races his first year. Now here we are 2 weeks in the 2009 season and the first race he came in 2nd and then 1st place for the second race. Now if that is not a good start, I don't know what is.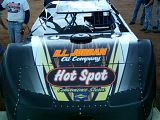 Mike Johnson said "I am watching a star of tomorrow each week I see KID QUICK race. I noticed him at a practice at Mileback in a young guns car. I'm a Blake Bentley fan, I watched him win a championship at the age of 11 in young guns and here's this kid a few years later Zack Mitchell age of 10 or so running with Blake , I was shocked. Now I follow Team Mitchell where ever they go. 10 years from now move over KYLE BUSCH the KID IS IN TOWN."
Zack Mitchell has created a fan base that spans several states and he has even been heard of as far away as California. I once asked him what he thought about his many fans, he said "I would not be here with out them. My fans have always been there and cheered me on through it all."
He makes it a point to thank the fans each and every time he wins a race along with his sponsors, crew and family. With all that goes into Kid Quick's adventure in racing, he has a number of people helping in any way they can to keep him on the track and in a safe car. Travis Morgan, Chad Husky, Frank & Janice Vinson, Jerry & Bonnie Mitchell, Jeremy Thomas, Keith DeYoung and his parents Todd & Jennifer Mitchell are by his side each step of the way bringing it all together in order to see his dreams come true.
Wins so far this year at Travelers Rest Speedway for Zack Mitchell " Kid Quick".
1st Place – April 11th at TR Speedway
2nd Place – April 4th at TR Speedway and April 25th TR Speedway
This past race on April 25th, 2009 really showed his skills as he came from 4th taking his leaps all the way up to finish second place. He passed some of the best out there in the GM Performance division and I believe if he would have had maybe a lap or two more, this week would have been another first place for "Kid Quick".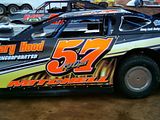 © 2009, Dirt Track Gone Wild. 2008 – 2012 Dirt track Gone Wild All rights reserved.